Continuing Surveys
In recent months, locals will have noticed investigation works being carried out for the scheme around the town and its outskirts. Works, which involved boreholes and open trenches, were completed in April and samples obtained during the works are being tested to determine the geotechnical characteristics of the area. The following image shows some of the retrieved rock samples collected during the works.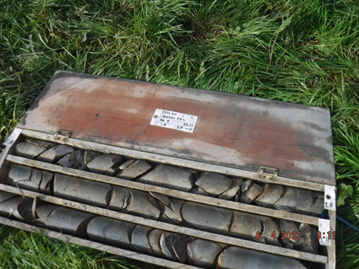 There were also some less obvious surveys carried out recently. Ecologists have been looking out for birds and mammals. The bird population has been monitored over the last 12 months in the harbour area. In April, surveys to identify habitats for mammals such as badger, fox, otter, mink, pine martin and stoat were carried out. The image below shows a fox captured by a trail camera during the survey.
The surveys were undertaken to help identify the locations of dens, breeding areas and feeding sites of any mammals present. Surveys focused on Freshwater Pearl Mussel habitats will be carried in May, whilst an electro-fishing survey to determine fish species and populations will be undertaken in July.